Home to the Football Kenya Federation, the Kenya National Basketball League and Athletics Kenya among others, the Nyayo National Stadium is a multi-purpose stadium located at the center of Nairobi County, Kenya.
A national treasure, the stadium has played host to numerous regional and international sporting & cultural events including the 2010 African Championships In Athletics and a good number of Presidential public holiday celebrations.
To enjoy the city's hospitality while maintaining close proximity to the facility, sports fanatics can choose from a wide selection of hotels near Nyayo Stadium. Here's our rundown of the best options within a 3min travel time radius.
1. HOTEL RIO
Hotel Rio is a luxurious yet budget hotel that provides simplicity, comfort and exclusivity within the bustle of Nairobi. Featuring an exotic Brazilian aesthetic, the hotel's atmosphere is fun, warm and inviting.
The rooms offer the most distinctive accommodation experience in Nairobi. Allowing you to enjoy a truly exclusive living space complete with all the amenities you would need for a pleasant stay. Hotel Rio also features a bespoke and secluded guest house for those interested in a more private accommodation setup.
Beyond this, the state-of-art hotel restaurant and sports bar, staffed with highly-acclaimed chefs, bartenders and service personnel, offers an intriguing mix of culinary delights. Blending foreign tastes, fresh locally-sourced produce and traditional methods of preparation, Hotel Rio delivers a dining experience that is sure to exceed your expectations.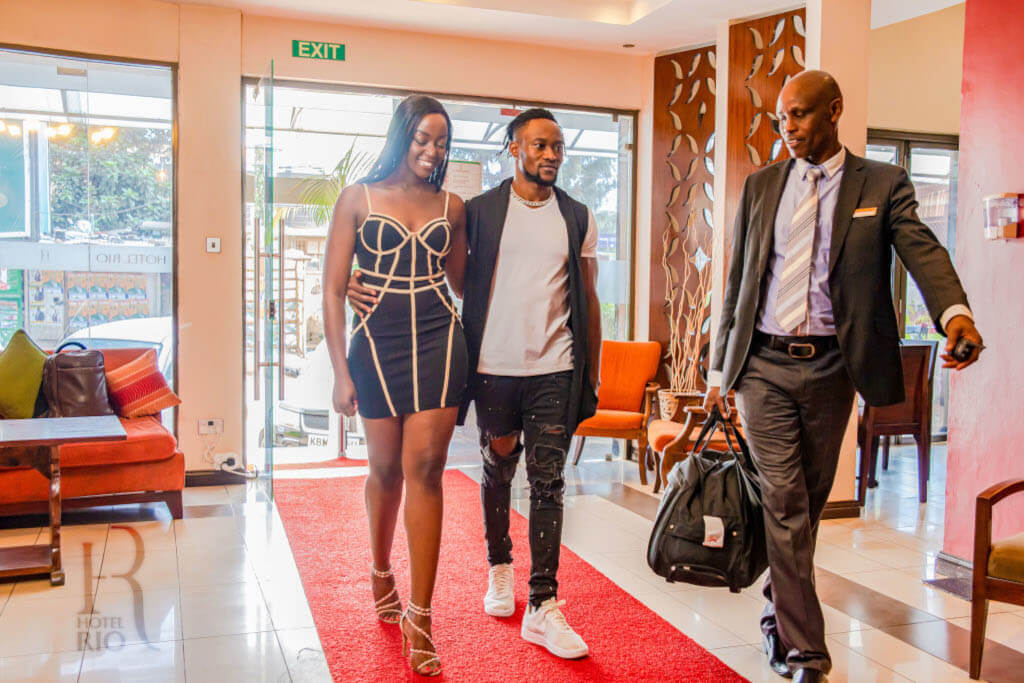 The hotel's central location enables easy access for conference events and business meetings as well. Hotel Rio is one of the hotels near Wilson Airport which is a mere 8mins drive. Transit to the Jomo Kenyatta International Airport takes less than 30mins. Of course, travelers can opt for the significantly faster Nairobi Expressway route which further provides quick access to Nairobi's various business districts.
2. SUMMERNDALE INN
Tailored for business, the Summerdale Inn is an all-suite luxury business hotel located in Nairobi West. It "combines the convenience of the office with the comforts of home".
With a luxurious yet calming ambience, Summerdale aims for customer satisfaction personified in excellent accommodation and superb service. This, made possible through a team of well-trained and self-driven staff who work around the clock to maintain the hotel's high standards.
The rooms, pristine and well organized, are warm and stylish. Making for an enjoyable stay. Those with an appetite for laid-back indulgence can order room service and have their freshly prepared delicacies brought right to their bedside.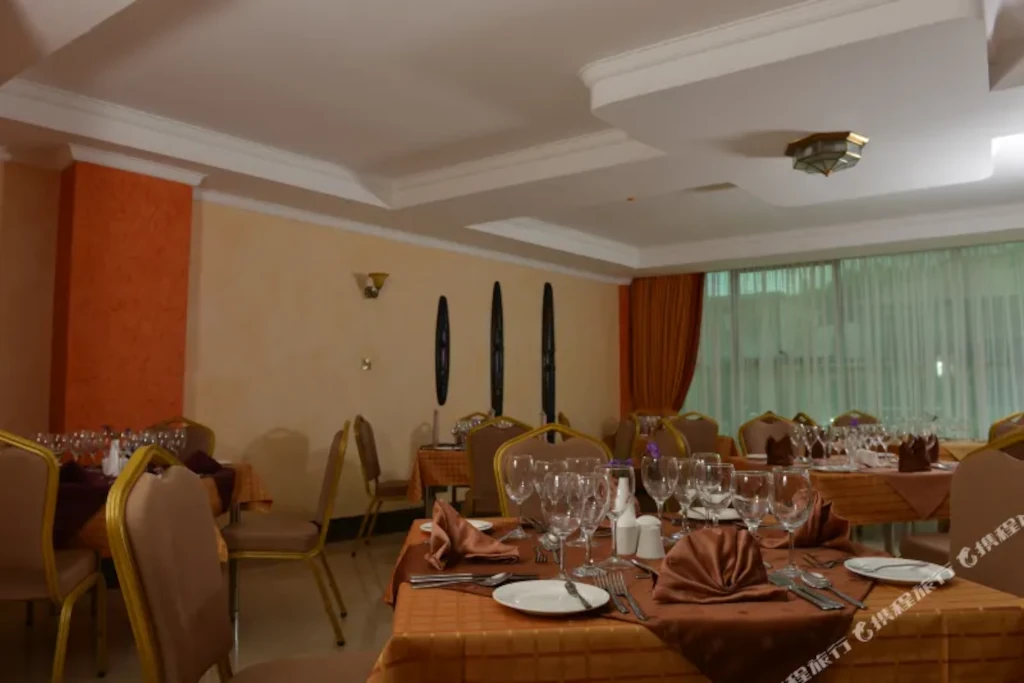 For a more social dining experience, visitors can reserve a table at the Savannah Restaurant, where the wait and kitchen staff strive to deliver an unforgettable dining experience. The Sunset Bar complements the restaurant with a wide variety of both alcoholic and non-alcoholic drinks. Setting the stage for exquisite and memorable social gatherings.
Being in more or less the same geographical area, Summerdale Inn's accessibility from a transport & travel perspective is as good as Hotel Rio's.
3. WEST LERRUAT HOTEL
Also strategically located in the Nairobi West neighborhood, the West Lerruat Hotel is one of the top hotels near Nyayo Stadium. It offers authentic yet luxurious city living experiences inspired by the diversity in adventure afforded by the capital city.
Catered to the more adventurous soul, West Lerruat provides good accommodation facilities as well as a wide selection of amenities guaranteed to garner a delightful stay for all its visitors.
The food, served at the lounge or main restaurant, is nothing short of outstanding. This ensured by the highly-talented chefs and service staff. West Lerruat's restaurant menu comprises fixtures celebrating both local and international cuisines, so you can rest assured that there will be something for you, your friends or your family.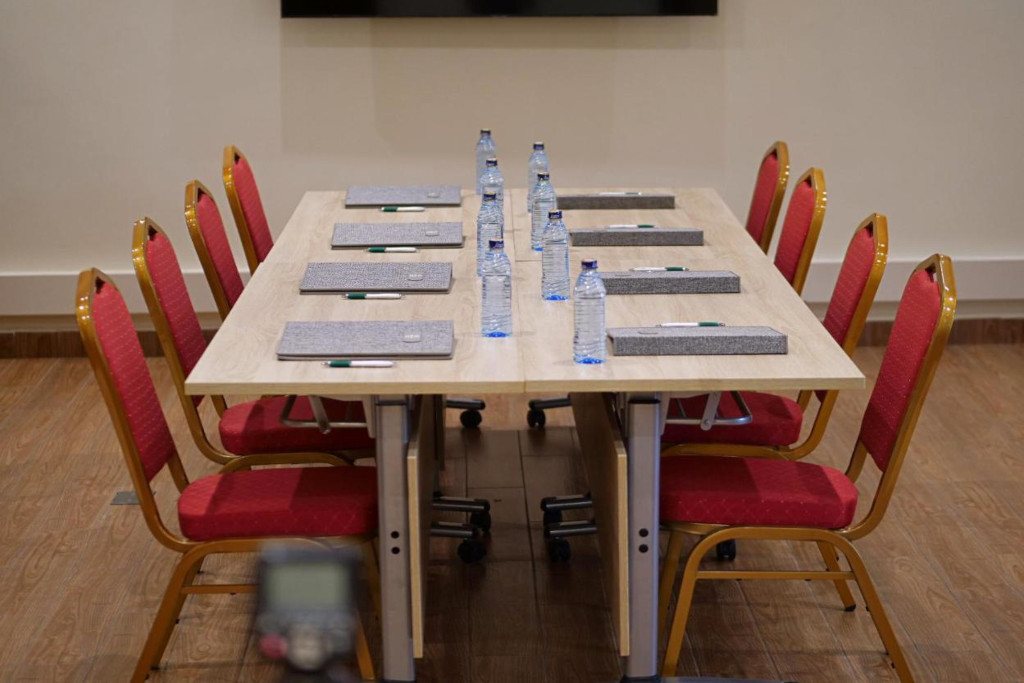 Travel and transport are a piece of cake for West Lerruat as well, by virtue of its central geographical location. You can get to virtually any part of Nairobi in a matter of minutes. Provided you have a competent driver of course.
Conclusion
While there are numerous and highly varied hotels near Nyayo Stadium, finding the best fit for a memorable, luxurious, budget-friendly and stress-free stay comes down to personal taste and more than a little exploration. So book yourself a stay with one of these uniquely amazing hotels and get a feel for what lights up your literal and stylistic taste buds.
---
LATEST POSTS
---
2 / 2 If you're a business traveler visiting Nairobi, you know how important it is to find the right accommodations. Your guest house can make all the difference in your trip, so why not choose Hotel Rio in Nairobi West? Hotel Rio is the perfect choice for business travelers because of its ideal location, […]

---

Are you searching for the perfect destination to spend this Easter holiday in Nairobi? Look no further than Hotel Rio! Our luxurious hotel offers a memorable Easter experience that you and your loved ones will cherish forever. Hotel Rio offers an ideal location for those who want to explore Nairobi's bustling city. Our hotel is […]

---

If you're planning a trip to Nairobi, finding the perfect place to stay can be a daunting task. There are countless hotels in Nairobi, but Hotel Rio stands out as the best choice for your stay. Here are 10 reasons why. In conclusion, Hotel Rio is the best choice for your stay in Nairobi. With […]

---